MINIPRO VACUUM BLASTER
Based upon Gritco's high quality standards, extensive experience and know-how the MiniPro Blast Pot Series is designed as a compact, economical but professional alternative for less than full time blasting use with ultimate results.
As the actual blasting is sealed off by a brush head, dust and abrasives are immediately vacuumed by a powerful suction unit. The separator and silo fully recycle the collected, used abrasives. The automatically contained dust can be simply discharged. Vacuum, or dust free blasting is ideal for spot repairs, welding seams and/or situ blasting in working environments where dust- and abrasive pollution is to be avoided. Gritco's vacuum blasting is a safe blasting solution for confined or critical areas (with a lower working speed compared to 'open' blasting).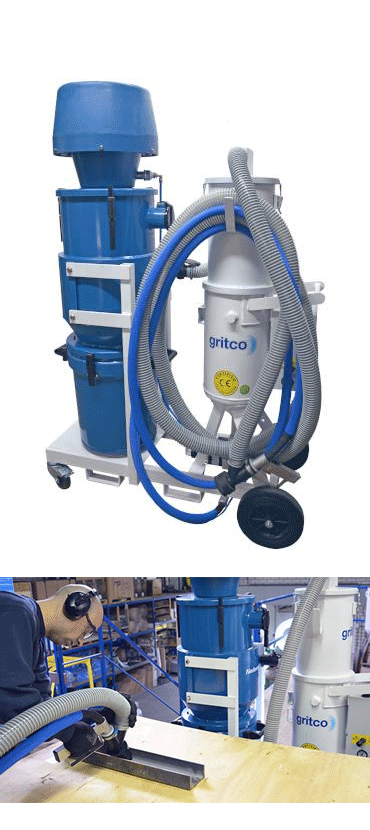 PDF Download
Powerful benefits

Dust free operation because of automatic blasting & vacuum sequence
Clean, abrasive free object surface after blasting
Unit can be relocated and/or transported easily
Wide range of brushes to fit all (flat, cornered, radiused) surfaces
Better blasting value

Suited for abrasives like glass beads, garnet and aluminium oxide
Blasting pattern of 30 millimeters
Small portable design for use in contained spaces (ships, tanks, etc.)
Quality includes

Renowned Nederman (Norclean) vacuum equipment for top results at low energy use
Wear resistant metering valve which can easily be removed for quick maintenance
Complete safety according to European Directive PED 2014/68/EU
Environmentally friendly

Saving on abrasives because of closed circuit recycling
No dust and contamination which are collected in a drum for safe disposal